Daily Admission Tickets
Thu, Feb 02 - 10:00 AM
-
Sun, Feb 05 - 04:00 PM
2023 Western Hunting & Conservation Expo Exhibit Hall Daily Admission Ticke
Ticket Type
Price
Quantity
Single Day Exhibit Hall Admission
$25.00

One (1) daily admission pass into the 2023 WHCE exhibit hall (Thursday - Sunday)
{{itemExpanded['ti334084']?'Less':'More'}}
Single Day Youth Exhibit Hall Admission (Ages 12 - 18)
$10.00

One (1) daily admission pass into the 2023 WHCE exhibit hall (age verification required)
{{itemExpanded['ti334088']?'Less':'More'}}
Single Day Child Exhibit Hall Admission (Ages 11 & under)
$0.00

One (1) daily admission pass into the 2023 WHCE exhibit hall (age verification required)
{{itemExpanded['ti334095']?'Less':'More'}}
Single Day Exhibit Hall Admission with MDF Membership
$35.00

One (1) daily admission pass into the 2023 WHCE exhibit hall with single MDF membership
{{itemExpanded['ti334091']?'Less':'More'}}
Single Day Exhibit Hall Admission with SFW Membership
$35.00

One (1) daily admission pass into the 2023 WHCE exhibit hall with single SFW membership
{{itemExpanded['ti334096']?'Less':'More'}}
Single Day Exhibit Hall Admission with Double Membership
$55.00

One (1) daily admission pass into the 2023 WHCE exhibit hall with membership for both MDF & SFW
{{itemExpanded['ti334090']?'Less':'More'}}
2-Day Exhibit Hall Admission with MDF Membership
$50.00

Two (2) daily admission passes into the 2023 WHCE exhibit hall with single MDF membership
{{itemExpanded['ti334097']?'Less':'More'}}
2-Day Exhibit Hall Admission with SFW Membership
$50.00

Two (2) daily admission passes into the 2023 WHCE exhibit hall with single SFW membership
{{itemExpanded['ti334092']?'Less':'More'}}
2-Day Exhibit Hall Admission with Double Membership
$70.00

Two (2) daily admission passes into the 2023 WHCE exhibit hall with membership for both MDF & SFW
{{itemExpanded['ti334098']?'Less':'More'}}
4-Day Exhibit Hall Admission with MDF Membership
$80.00

Four (4) daily admission passes into the 2023 WHCE exhibit hall with single MDF membership
{{itemExpanded['ti334087']?'Less':'More'}}
4-Day Exhibit Hall Admission with SFW Membership
$80.00

Two (2) daily admission passes into the 2023 WHCE exhibit hall with single SFW membership
{{itemExpanded['ti334093']?'Less':'More'}}
4-Day Exhibit Hall Admission with Double Membership
$100.00

Four (4) daily admission passes into the 2023 WHCE exhibit hall with membership for both MDF & SFW
{{itemExpanded['ti334085']?'Less':'More'}}
Add to Cart
checking availability

Cart updated with your selection
Fundraising Information
{{campaign.name}}
Visit fundraiser page to {{campaign.ctaLabel}}
Salt Palace Convention Center
100 South W. Temple
Salt Lake City, Utah 84101
{{directions}}
This location has Open seating
Enter your message to the Event Organizer.
All fields are required.
Please enter the characters displayed
Try another
Please complete all fields to send message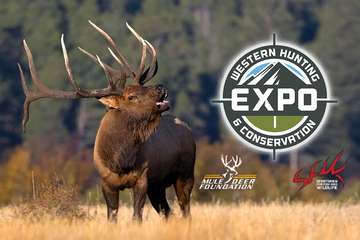 The 17th Annual Western Hunting & Conservation Expo held in Salt Lake City, UT February 2nd - 5th, 2023 will combine the very best in hunting expositions with a joint national convention between two major North American wildlife conservation organizations – the Mule Deer Foundation (MDF), and Sportsmen for Fish & Wildlife (SFW).
Cart is Empty
{{item.sectionName}}
{{item.seatName}}
{{item.name}}
{{item.price | currency:'$'}}
{{item.quantity}}
{{item.performanceName}} - {{item.startDate}}
{{item.message}}
Check Out